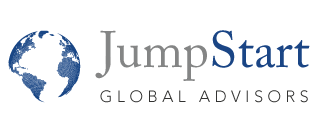 Welcome to the JumpStart Global Advisors newsroom where you'll find news and background information.
JumpStart Global Advisors
JumpStart Global Advisors is a next-generation business consultancy providing best-of-breed start-up services to international companies seeking entry into new global markets. Its broad range of business services provide mission critical support required by companies seeking to achieve market entry velocity.
JumpStart Global Advisors Images
JumpStart Global Advisors Bios
Scott Gordon, Managing Director, JumpStart Global Advisors & President, Gordon Global Advisors
Scott R. Gordon is a principal in Gordon Global Associates which he co-founded with his father, Sheldon Gordon, C.P.A., in February 2000. Gordon Global Associates, located in Lynbrook, New York is a wholly owned subsidiary of a New York regional accounting firm that has been in existence for more than 30 years.

Mr. Gordon is responsible for identifying international companies that have been successful in selling their products and services all over the world and are considering developing a market in North America. The company has worked with technology companies, traditional manufacturers, textile companies and service providers from Singapore, Hong Kong, Norway, Canada, South Africa and Taiwan.

An actively practicing attorney, Mr. Gordon manages the firmís accounting and administrative staff to provide international businesses with a full complement of legal, financial, business administrative and product distribution support services. The value-added component to the firmís services is its focus on providing clients with hands-on services, and ensuring that all of their United States business operations are given precise professional attention. On a daily basis, Mr. Gordon serves as counsel to the firmís clients on all of their United States legal and operational matters.

Mr. Gordon was admitted to the New York State Bar in 1996. He worked as a staff attorney for the law firm of Debevoise & Plimpton from 1996 to 1998. His practice concentration included the representation of banks, securities firms and insurance companies. From 1998 to 2000, he served as counsel to Owens Corning, a manufacturer of commercial and residential building materials. Mr. Gordon received a B.B.A. in Accounting and Finance from George Washington University in 1992 and a J.D. from Touro College, Jacob D. Fuchsberg Law Center in 1995.

Mr. Gordon, his wife Shari, and daughters Emily and Rebecca reside in Roslyn, N.Y.

Henry Feintuch, Managing Director, JumpStart Global Advisors & President, Feintuch Communications
Henry Feintuch is a senior communications practitioner and former broadcast journalist with more than 25 years of experience providing counsel to organizations ranging from start-ups to Fortune 1000 companies.

Utilizing a hands-on approach, he has worked with a broad range of corporations and associations in sectors that include information technology, telecommunications and wireless, e-commerce and interactive services, advertising and market research, media and publishing, financial services, consumer electronics and many more.

Prior to founding Feintuch Communications in January 2009, he was managing partner, public relations, at KCSA Strategic Communications. For more than 22 years, Mr. Feintuch conceived of, managed and worked on client campaigns for Arbitron, IEEE, International Paper, BellSouth and numerous other domestic and international emerging companies. He also created the firmís advertising and media practice, serving a wide array of traditional and out-of-home media companies, and its global tech group, with a heavy emphasis on emerging technology from Israel.

Previously, he served as director, corporate communications for Scanvest Ring, a marketer of enhanced 9-1-1 automatic call distribution technology, and served in account management at Booke & Company and Paul Kaufman Associates.

Early in his career, Mr. Feintuch served as news assignment editor for WCBS-TV in New York City. He was also a reporter and anchorman for radio stations WTTM-AM, WMTR-AM and WDHA-FM and served as a professional scout executive with Greater New York Councils, Boy Scouts of America.

Mr. Feintuch earned his bachelorís degree in television and radio from Brooklyn College, City University of New York. He is an active member of the Public Relations Society of America, the former chair of its technology section and past co-chair of its annual T3 technology conference. He also serves on the advisory board of Quu, an interactive media technology company that has developed a complete, turnkey solution for the radio industry. He resides in Chappaqua, N.Y. with his wife Alice. The Feintuchs have two sons, Joshua and Alex, and a dusky conure.

JumpStart Global Advisors Logos
JumpStart Global Advisors Press Releases
May 14th, 2012
March 27th, 2012
February 13th, 2012
December 13th, 2011
July 12th, 2011
July 11th, 2011
June 23rd, 2010
May 19th, 2010
April 27th, 2010